Army Green Beret Danny Patton is a modern-day warrior fighting battles that range from tribal Afghanistan to his own living room. As the corrosive gears of war begin to rip apart his family, his integrity, and his soul, Danny is thrust into his final, eternal mission. On the other side, with Valhalla beckoning, he discovers that combat can be fueled by vengeance or by love… it just
depends
which price you are willing to pay. You've heard the war stories of the "first in." This is the untold story of the LAST OUT.
War comes with many costs, some more obvious than others. The physical wounds and loss of life are tragic but visible, and burdens that are readily shared. Unfortunately, there are hundreds of thousands of military veterans and family members for whom the wars in Iraq and Afghanistan are still being waged, at home. Their stories are seldom told and rarely understood. This is not only unfortunate, but a threat to our national security and the fabric of our society – but we're changing that.
Written by former Green Beret, LTC Scott Mann and based on real events, Last Out is a story that has never been told in a voice that has never been heard. Performed by a professional cast of military veterans and military family members, this play is a white-knuckle ride that tells the real story of our soldiers and the families that fight alongside them. It's more than a play…it's Combat Storytelling.
Throughout history, societies have used storytelling to help warriors integrate back into society, and Last Out follows in that tradition. The mission of this production is to validate the journey of our military veterans and their families while building genuine and well-informed understanding in the communities where they live.
in 2019, LTC Mann's 501C3 non-profit, The Heroes Journey, took Last Out on a national tour, bringing this message to the folks who needed to hear it most. With performances in 14 cities, from California to New York, Last Out  honored over 500 military heroes and Gold Star Families, performed over 200 PTS Interventions, and impacted over 5,000 lives.
And we're not done yet.
Last Out is coming to 12 more cities through 2020.
Why?
Because after 18 years of conflict, and no relief in sight for our small, volunteer force, it's critical that our citizens and political leaders get beyond "thank you for your service." If America is going to continue to send her sons and daughters into the crucible of combat, American Citizens damn sure need to know what we are asking them to do. We believe that Last Out is a powerful and meaningful way to do just that.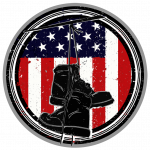 ABOUT THE HEROES JOURNEY
Every year, 200,000 veterans transition from military service into civilian life. It's a challenging time that often results in loss of identity and changes so significant it seems like the veteran is changing planets. For our warriors to live the life of prosperity they deserve, they must re-discover their voice and tell their story. The Heroes Journey is a 501C3 of Warriors and Civilians with a passion for storytelling in all forms. Founded by Scott and Monty Mann, we work directly with veterans and their families to find their voice, and then tell their own hero's journey. Our free services include storytelling workshops, books on transition, and even virtual learning. When veterans tell their story, they are much more resilient to cope with the stresses of military transition and to lead our communities here at home. After all, the return and transformation of these Heroes is central to the strength of America.