The Heroes Journey presents the 2019 National Tour of
LAST OUT: ELEGY OF A GREEN BERET
Army Green Beret Danny Patton is a modern-day warrior fighting battles that range from tribal Afghanistan to his own living room. As the corrosive gears of war begin to rip apart his family, his integrity, and his soul, Danny is thrust into his final, eternal mission. On the other side, with Valhalla beckoning, he discovers that combat can be fueled by vengeance or by love… it just depends which price you are willing to pay. You've heard the war stories of the "first in." This is the untold story of the LAST OUT.
LAST OUT began its theatrical journey as a one-person show when Scott was a student in Florida Studio Theatre's "Flying Solo" course. Working side by side with FST's Jason Cannon, Scott drew from both his experience as a Green Beret in combat and his training at FST to write and perform the play. Taking two years to complete, LAST OUT is based on true stories of war.
LAST OUT will TOUR THE COUNTRY IN 2019, with an all veteran cast and musical score. LAST OUT is a theatrical experience intended to help civilians better understand the cost of combat to our veterans and their families, and to help warriors utilize the power of story to let go of their pain, healing the wounds of war.
LAST OUT is produced by The Heroes Journey, a 501c3 nonprofit founded by Scott Mann and his wife, Monty Mann, dedicated to helping our military men and women find their voice and tell their story in transition with free books, workshops, and virtual training. These free resources will be made available to veterans in each city LAST OUT stops in throughout the tour. To sponsor the 2019 tour of LAST OUT, be an Ambassador for our mission, or donate to THE HEROES JOURNEY, visit www.lastoutplay.com/sponsor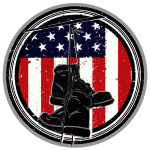 ABOUT THE HEROES JOURNEY
Every year, 200,000 veterans transition from military service into civilian life. It's a challenging time that often results in loss of identity and changes so significant it seems like the veteran is changing planets. For our warriors to live the life of prosperity they deserve they must re-discover their voice and tell their story. That is our Mission at The Heroes Journey At The Heroes Journey, we are a 501C3 of Warriors and Civilians with a passion for storytelling in all forms. Founded by Scott and Monty Mann, we work directly with veterans and their families to find their voice, and then tell their own hero's journey. Our free services include storytelling workshops, books on transition, and even virtual learning. When veterans tell their story, they are much more resilient to cope with the stresses of military transition and to lead our communities here at home. After all, the return and transformation of these Heroes is central to the strength of America.